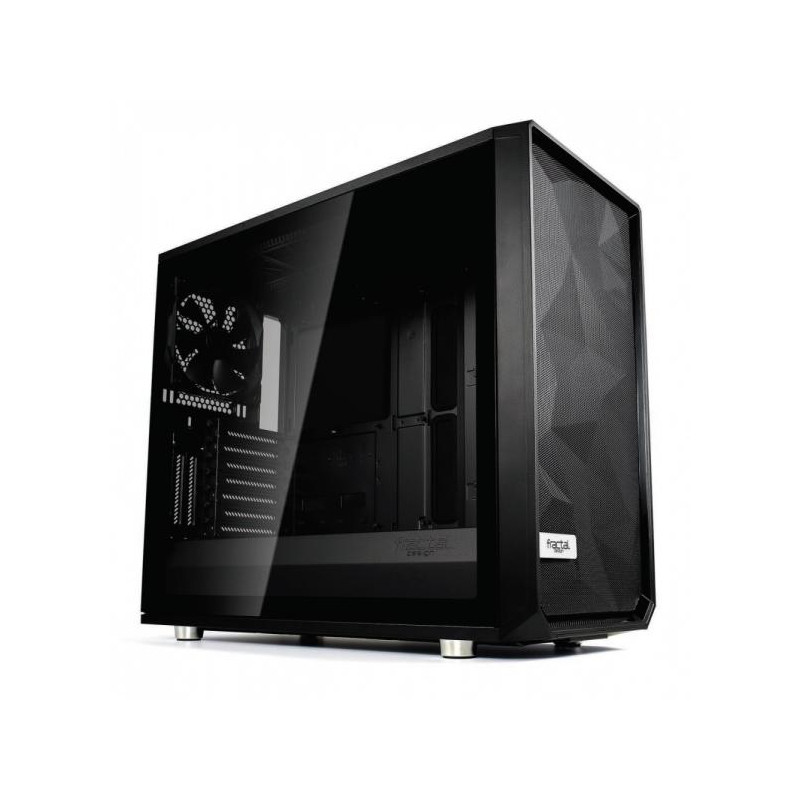  
Fractal Design Define S2 Midi-Tower, Tempered Glass, insulated - s
The Fractal Design Define S2 is the logical continuation of a proven and innovative housing concept and, like hardly any other media tower, represents a restrained look paired with high-quality technology. 
Design features include flat surfaces, plastic brushed aluminum look and an edgy design. The Define S2 offers many options for custom water cooling. The Fractal Design Define S2 with tempered glass in the overview: - Sound insulation in the front panel & side panel - Modular cover sound insulation and dust filter - Side panel in tempered glass - Space for a 360mm radiator in the front - Space for a 420mm radiator in the lid - Numerous mounting system options for water cooling systems - Up to 440 mm long graphics cards - Magnetic front filter & removable bottom filter - Define S2: Acoustic midi tower for custom water cooling Like all Define series enclosures, the Define S2 is soundproofed. The front, the right side panel and the lid are provided with insulation material, whereby the mode vent covers in the lid can be removed. The dust filter without lid can be used again to improve the airflow. To cool the hardware effectively and as quietly as possible, the case supports the installation of custom water coolers. A 360 mm radiator can be installed on the front, while the lid can even be fitted with a 420 mm long radiator, as long as the combination of radiator and fan is not deeper than 35 mm. Further, up to 240/280 mm fans / radiators can be installed on the floor. The back can accommodate a 120 millimeter radiator as a replacement for the pre-installed fan. Pixel accelerators can be up to 44 cm long, but other components limit the actual maximum length of the graphics card. Alternatively, the graphics card can also be installed vertically. CPU coolers can be up to 185 mm high, while three brackets on the back of the front bezel can hold one 2.5-inch or 3.5-inch disk each. In addition, there are two holders for SSDs behind the mainboard tray. The controls on the I / O panel are located in front of the cover on the front panel and include a slot for the reversible USB 3.1 Type C connector, two more USB 3.0 and USB 2.0 ports, and two audio connections. After removing the front panel you get access to the magnetically attached dust filter. Another dust filter covers the entire floor and is also removable. Technical details: - Dimensions: 233 x 465 x 543 mm (W x H x D) - Material: steel, tempered glass, plastic - Weight: approx. 11.6 kg - Color: Black, White (PCI screens, fan blades) - Form factor: E-ATX, ATX, Micro-ATX, Mini-ITX Total fan possible: - 3x 120/140 mm (front) - 1x 120/140 mm (back) - 2x 120/140 mm (floor) - 3x 120/140 mm (cover) Preinstalled: - Front: 2x 140 mm (Dynamic X2 GP-14) - Rear: 1x 140 mm (Dynamic X2 GP-14) - Filter: lid, bottom, front (removable) Radiator Mountings: - 1x max. 360/280 mm (front) - 1x max. 360/420 mm (lid, max 35 mm including fan) - 1x max. 240/280 mm (floor) - 1x 120 mm (back) Drive Bays: - 2x 2.5 inches (internal) - 2x 3.5 / 2.5 inches (internal) - Power supply: 1x standard ATX (optional) - Expansion Slots: 7 + 2 Vertical I / O panel: - 1x USB 3.1 type C - 2x USB 3.0 - 2x USB 2.0 - 1x reset button - 1x power button - 1x each HD Audio In / Out - Maximum graphics card length: max. 440 mm - Maximum CPU cooler height: max. 185 mm - Maximum network part length: max. 300 mm (without fan in the floor)
Техническо описание
Други

подреждане на кабелите филтър за прах фен контрол подсилено стъкло
Мнения
Няма потребителски мнения до този момент.