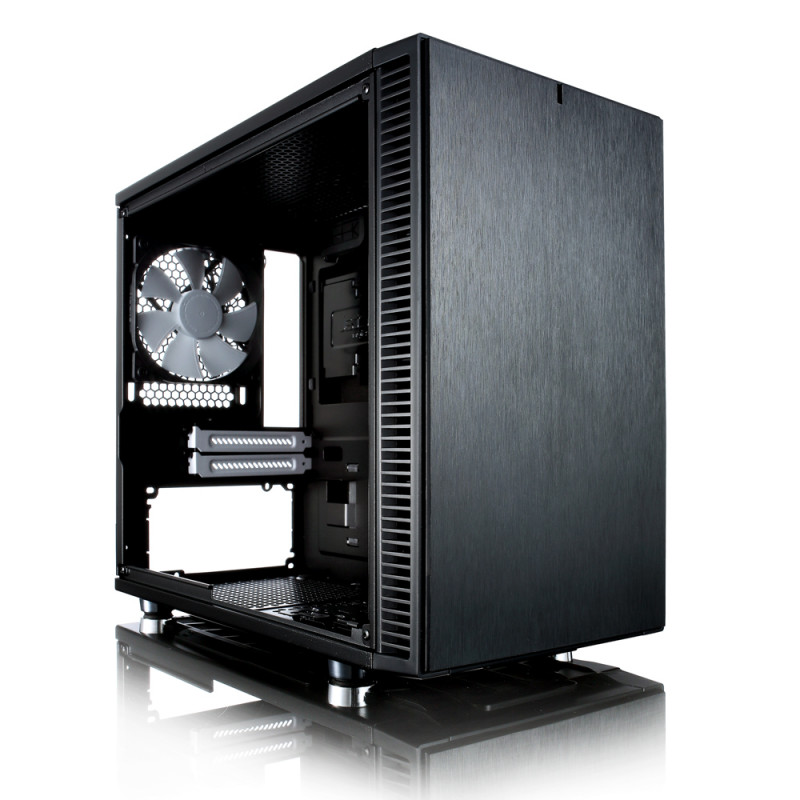  
Fractal Design Define Nano S Mini-ITX case - black
Ultra-premium and quiet Mini-ITX case in black with noise dampening
support for 280 mm radiators as well as pumps and AGBs & for graphics cards up to 315 mm
Product information -
Define Nano S Mini-ITX Gehäuse - schwarz
Ultra-premium and quiet Mini-ITX case in black with noise dampening, support for 280 mm radiators as well as pumps and AGBs & for graphics cards up to 315 mm The
Fractal Design Define Nano S
is the logical continuation of a highly-esteemed and sought after series of designer cases and represents like few other Mini-ITX towers the best of sleek aesthetics paired with premium technology. In terms of design features, the cases emphasise smooth lines, brushed aluminium-look plastic, angular accents and white highlights on the inside. The Define Nano S offers, for a Mini-ITX case, a range of options for installing custom watercooling.
The Fractal Design Define Nano S at a Glance:
Noise dampening in front- and side panels
Removable insulated sections in the roof that are removable
Space for a 280 mm radiator in the front
Mounting system for reservoirs in front of the motherboard
Base plate with mounting holes for pumps
Up to 315 mm long graphics cards
Magnetic front filter and removable underside filter
Define Nano S: Noise-Insulated Mini-ITX Case for Custom Watercooling
As all cases in the Define series, the Define Nano S is noise insulated. In order to cool the hardware effectively and as quietly as possible, the case supports the installation of custom watercooling gear. The Nano S offers a base plate for mounting pumps, while reservoirs can be mounted in front of the motherboard. At the front, the case supports a 280 mm radiator with dimensions measuring up to 147 x 312 mm. A real rarity in cases of this size.
Graphics cards can be up to 31,5 cm long, although only when no radiator is installed in the front. Since there is relatively little space in between the graphics card and the PSU, only cards up to dual-slot in cooler size can be used. CPU coolers can be up to 163 mm tall.
The insulated covers in the roof can be removed in order to install additional fans or a radiator in the roof. Although, this does means the motherboard with its RAM modules cannot be over 35 mm in size. The installation of custom- or AiO watercooling is supported in the Nano S, although this demands a degree of planning and experience.
Two SSDs can be attached to the back of the motherboard tray, and a storage drive (2,5- or 3,5") can be installed using a bracket to the front of the SSDs. An additional HDD or SSD can be installed in front of the PSU on the pump bracket.
The I/O panel's controls are located towards the front of the roof and include, among other things, two USB 3.0 ports and two audio jacks. After removing the front panel, users get access to the magnetically attached dust filters. An additional dust filter covers the entire bottom of the case and is likewise removable as needed.
Technical Details:
Dimensions: 203 x 330 x 400 mm (W x H x D)
Material: Stahl, Kunststoff
Weight: approx. 5 kg
Colour: Black
Form factor: Mini-ITX
Total possible fans:
2x 120/140 mm (front)
1x 120 mm (rear)
1x 120 mm (bottom)
2x 140/ 1x 120 mm (Roof, if MB and RAM not higher than 35 mm)
Pre-installed:
1x 140 mm (Front, Dynamic GP-14, 1.000 RPM)
1x 120 mm (Rear, Dynamic GP12, 1.200 RPM)
Filter: Bottom, Front (removable)
Radiator Mountings:
1x max. 240/280 mm (Front, max. 147 x 312 mm)
1x max. 240 mm (Front, if MB and RAM not higher than 35 mm)
1x max. 120 mm (Bottom, height max. 85 mm, length max. 160 mm)
1x 120 mm (Rear, max. width 125 mm)
Drive Bays:
2x 2,5" (internal)
2x 3,5/2,5" (internal)
PSU: 1x Standard ATX (optional)
Expansion slots: 2
I/O-Panel:
2x USB 2.0
1x USB 3.0
1x Reset Button
1x Power Button
1x HD Audio In/Out
Max GPU length: max. 315 mm (max. dual-slot cooler)
Max CPU cooler height: max. 160 mm
Max PSU length: max. 160 mm
Техническо описание
Warranty

24 Months

Цвят

Black

Модел

DEFINE NANO S

Форм фактор

ITX

Dimensions

203 x 330 x 400mm

Weight

5 kg

Other

CPU coolers up to 162mm in height, ATX PSUs up to 160mm deep (shorter PSUs recommended for easier cable management), Graphics cards up to 315mm in length with front fans mounted

Manufacturer

Fractal Design

Materials

-

Mnfr Part #

FD-CA-DEF-NANO-S-BK

Cooling

Cooling system: Front: 2 – 120/140 mm fans (included is 1 Fractal Design Dynamic GP14 fan, 1000 RPM speed), Rear: 1 – 120 mm fan (included is 1 Fractal Design Dynamic GP12 fan, 1200 RPM speed), Top: 2 - 120/140 mm fan (not included),Bottom: 1 – 120 mm fan

I/O

2 USB 3.0, Audio in/out

Slots for devices

Drive bay capacity-1x - 3.5" or 2.5" on rear, 1x - 3.5" or 2.5" on multi-bracket (if not used for water pump), 2x - 2.5" dedicated SSD unit positions (maximum thickness 13mm)

Expansion Slots

2
Мнения
Няма потребителски мнения до този момент.