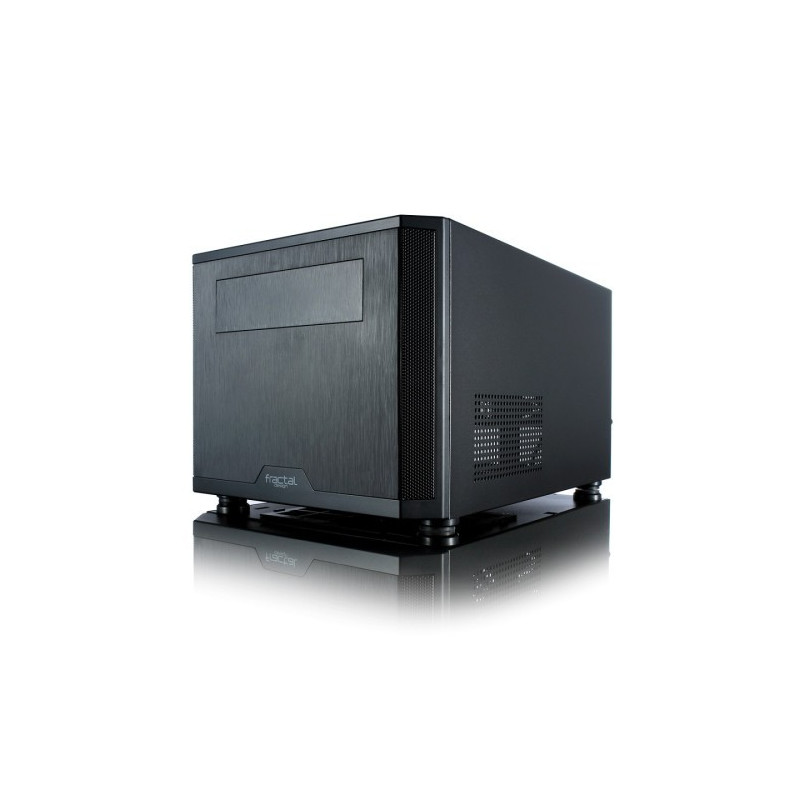  
Fractal Design Core 500 Mini-ITX case - black
The Fractal Design Core 500 Mini-ITX case combines Scandinavian understatement with great attention to detail. In less than 20 liters a high-end gaming graphics card, a AiO-water cooling with a large radiator and three SSDs and HDDs can be accommodated! The design with the front in a look of brushed aluminum looks in every HiFi residential landscape of impressive and the Core 500 can act as a media PC or console replacement.
The features of the Fractal Design Core 500 Mini-ITX housing at a glance: Timeless design Can accommodate up to 310 mm long graphics cards Can accommodate up to 280 mm absorb large radiators Up to 3 each 2.5-inch SSD & 3.5-inch HDD Optional drive bay for 5.25-inch drives Preinstalled 140mm Silent Fan Mini-ITX case for gaming hardware: Fractal Design Core 500 The Fractal Design Core 500 Mini-ITX case can devour an impressive hardware package in its 19.5 liters. An up to 31 cm long graphics card can be accommodated in the small case and since the motherboard is mounted on the floor, the map is highly known in the housing. Through the ventilation grilles in the left side of the waste heat from the graphics card is blown directly from the case, so that the other components are not heated unnecessarily. To cool the processor can either be installed a 170 mm high CPU cooler or a AiO-water cooling. For the latter, a model with a maximum of 240- or 280-mm radiator can be selected and for easy installation, the holder of the radiator can be removed. After mounting the radiator on the bracket, this can be easily mounted in a piece in the housing. Gaming PC or multi-media PC? Or both? In addition to this impressive hardware compatibility, the core 500 can shine with holders for three 2.5- and 3.5-inch drives. Also an optical drive in the form of a Blu-ray player or a burner can be installed in the core 500, however this option limits the choice of the radiator in the lid. A 2.5-inch SSD can be mounted behind the front and a 3.5-inch HDD is installed underneath the optical drive. On the right side two SSDs and HDDs can be mounted on a mounting rail. The SSDs are on the outer side and the HDD mounted in the inside of the housing. The PSU is mounted behind the front and in front of the motherboard. Under the PSU is a dust filter in front of the ventilation grilles. In the back there is a pre-installed 140 mm silent fan. The I / O panel with two USB 3.0 ports, two audio ports and the power and reset buttons located at the front edge of the lid. Technical details: Dimensions: 250 x 203 x 367 mm (W x H x D) Material: Steel (Body), plastic (front cover) Weight: approx 4.4 kg Color: Black Form Factor: Mini-ITX Fan total possible: 1x 140/120 mm (rear) 2x 140/120 mm (cover) Of preinstalled: 1x 140mm (rear; Silent Series, max 1,000 r / min.) Radiator Mountings (partial waiving HDD and / or fan slots): 1x max. 280/240 mm (lid, Max 100 mm Fan + radiator) / li> Filter: floor (PSU, removable), cover, left side (both magnetic, removable) Drive Bays: 1x 5.25 inch (external, can be removed) 3x 3.5 inch max. (Internal) 3x 2.5 inch max. (Internal) PSU 1x standard ATX (optional) Expansion Slots: 2 I / O panel: 2x USB 3.0 (internal connection) 1x per Audio In / Out 1x HDD status display (with white LED) 1x Power button (with white LED) Maximum video card length: 310 mm Maximum CPU cooler height: 170 mm
Техническо описание
Warranty

24 Months

Цвят

Black

Модел

500

Форм фактор

Mini-ITX, Mini DTX

Dimensions

250 x 203 x 367 mm

Weight

4.4 kg

Other

CPU coolers up to 170mm in height, ATX PSUs, up to 170mm in length (non modular PSUs), ATX PSUs, up to 160mm in length (modular PSUs),Graphics cards up to 310 mm in length (note: graphics cards longer than 170 mm will not fit with PSUs that exceed 170 mm)

Manufacturer

Fractal Design

Materials

-

Mnfr Part #

FD-CA-CORE-500-BK

Cooling

Cooling systemRear: 1 – 120/140 mm fan , Top: 2 - 120/140 mm fan (not included), Water cooling compatibility:Top – 280, 240, 140 and 120 mm radiators. (Thickness limitation of 100 mm for both radiator + fan) (240 and 280 mm radiators require removal of th

I/O

2 USB 3.0, Audio in/out.

Slots for devices

2 expansion slots, 3 - 3.5" HDD positions,3 - 2.5" dedicated SSD/HDD unit positions, 1 - 5.25" bay (removable).

Expansion Slots

2
Мнения
Няма потребителски мнения до този момент.