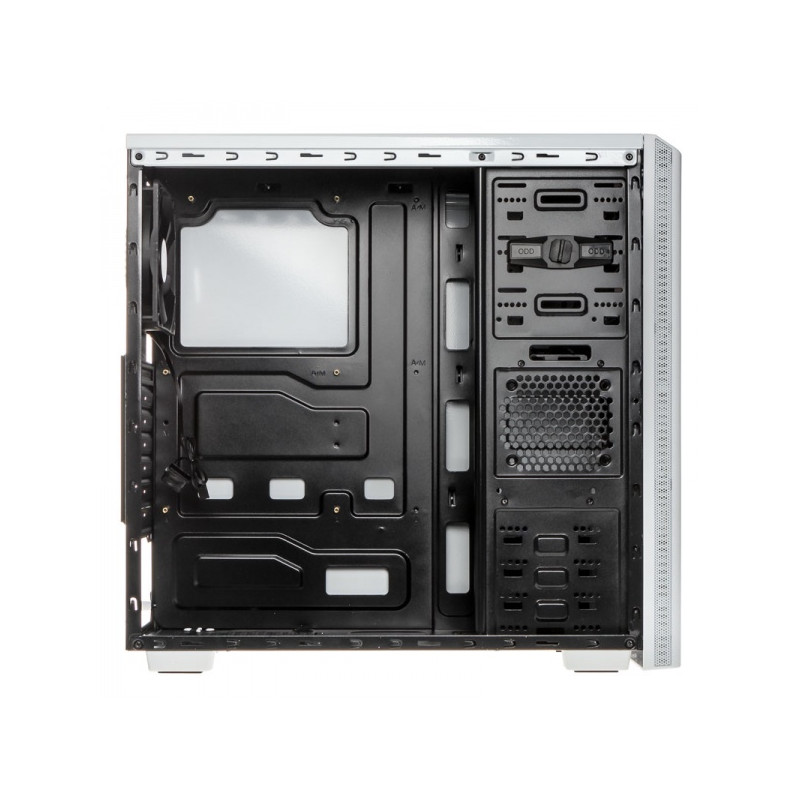  
BitFenix Nova Midi-Tower - white Window
BitFenix Nova + lateral mesh air intakes + side windows + Front BitFenix logo = Cool Modding cases with enough features!
This case is the white version of the simple, but send Nova Midi-Towers. It is also equipped with white mesh stripe down the side of the front panel and also has a large acrylic side window, the typical BitFenix logo on the front and a built-in rear 120 mm fan. In addition, the user can expect a 5.25-inch slot, four 3.5-inch slots, two 2.5-inch slots and the ability to build in two additional fans. Plenty of room for the most common configurations. By the front panel side-mounted mesh strip the housing design with closed outer sides is cleverly combined with the requirement of a fresh air access. Here, the optics is not impaired. On the contrary - the design is timeless and elegant as a unified whole. The clear and closed lines not only looks damn good, it also serves a purpose, because with the BitFenix Nova dust and disturbing noises of combat hardware will be announced. When left part of the two basic versions of the Nova differ (with and without window). This version, however, has a large side window made of acrylic. A look at the internal built-in hardware is a cool sight again and leaves the housing act directly quality. Through optional illuminated LED fan or LED Stripes Nova can be customized. Thanks to modern design, the motherboard above, the power supply is installed below. This offers the advantage of a separate fresh air access for the PSU on the ground and therefore a lower warming of the same by other PC components. The installed at the bottom dust filter protects the power supply from dirt and the resulting overheating. A large cut-outs in the motherboard tray allows an easy and comfortable installation of suitable CPU cooler. Expansion cards can be installed quickly by removable screws. In addition to an external 5.25-inch slot are all four internal 3.5-inch and two 2.5-inch spaces. All in all, plenty of space for lavish full-sized hardware. For their cooling up to three 120mm fans can be installed - two in the front and one at the rear. The pre-installed can thus be added (depending on the desire and purpose) by two other fans. Also to be sufficiently stocked the I / O panel presented in the upper front part of the lid, as it offers a USB 3.0 (internal via 20-pin connector attached), one USB 2.0 and two audio ports. The white power and HDD LED red are also the front of the I / O panel. Technical details:     Dimensions: 183 x 437 x 465 mm (W x H x D)     Material: steel, plastic, acrylic     Color white     Weight: 3,6 kg     Form Factor: ATX, Micro-ATX, Mini-ITX     Housing Volume: 57.8 l     Fans possible:     2x 120 mm (front)     1x 120 mm (rear)     Of this pre-installed:     1x 120 mm (rear)     Drives:     1x 5.25 inches (external)     4x 3.5 inch (internal)     2x 2.5 inch (internal)     Extension slots: 7     I / O Panel:     1x USB 3.0     1x USB 2.0     1x per Audio In / Out     1x Power-LED (white)     1x HDD LED (red)     Power Supply: Standard ATX PS2 format (optional)     Maximum video card length: 320 mm     Maximum CPU cooler height: 160 mm     Maximum power supply Length: 220 mm     Features:     PSU-dust filter     side vents at the front for optimal airflow     Rubberized feet for a perfect fit     preinstalled motherboard standoffs
Мнения
Няма потребителски мнения до този момент.