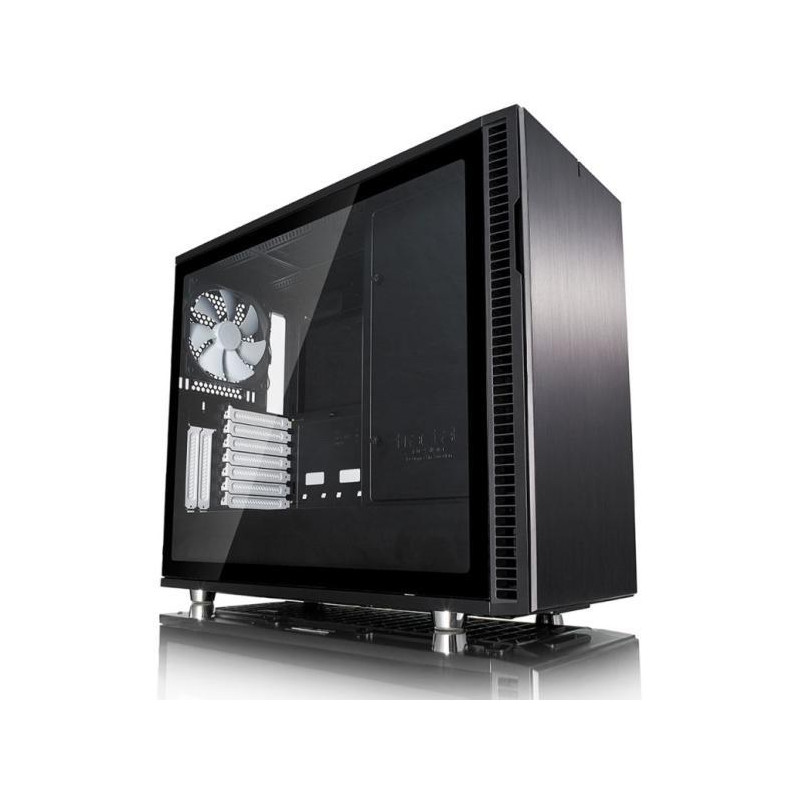  
Fractal Design Define R6 USB-C Midi-Tower - Tempered Glass, white
The Fractal Design Define R6 White USB-C is the consistent continuation of a proven and innovative housing concept and represents like no other midi tower a simple look paired with high-quality technology. 
Now the extraordinary case has been extended with a modern Type C USB 3.1 slot on the I / O panel, which also has the fast charge function. There are also flat surfaces made of brushed aluminum and the angular shape. The Define R6 is available in different colors and with or without windows. All this makes the Define R6 a real eye-catcher and a highlight of any interior. The Fractal Design Define R6 White Tempered Glass USB-C Midget Tower Overview: - Noble, high-quality Midi-Tower in white with gray accents - Brushed aluminum front door & tempered glass side panel - Virtually noiseless due to optimized housing insulation - Extensive air and water cooling assistance - Three fans & fan control preinstalled for up to nine fans - Innovative dust filters, ModuVent & interior trim - Nine drive bays for a massive memory expansion - Two slots for the vertical installation of an expansion card - Elegant case in the sixth generation The front of the Define R6 is completely flat with no I / O panel - the drives and the large air intake with the fan at the bottom are concealed by a soundproof front door that can be opened to the left or right. The I / O panel is attached to the top of the elegant case. In addition to a modern USB 3.1-type C slot with fast charging function, the panel features two USB 3.0, two USB 2.0 ports and two audio sockets, as well as the beautifully designed power button and an inconspicuous status LED. The interior, which is housed in a housing color, is loosened up by white drive bays and fan blades and can shine with very good cooling and plenty of space for components. The drive bays can either be covered in the standard layout with a cover, or left in the open layout without the cover visible. In addition to ATX, Micro ATX and Mini-ITX motherboards, seven expansion cards can also be installed in the housing. In addition, the Fractal Design Define R6 White Tempered Glass USB-C offers two vertical expansion slots that can accommodate a 2.5-slot graphics card with an optional riser cable. Lots of space for drives and plenty of pre-installed dust filters Even large E-ATX motherboards with a width of up to 285 mm find their place. A drive cage for a 5.25-inch optical drive is easily removable to accommodate radiators or other hardware. In addition, six 3.5-inch drives can be accommodated in the carriage, these are also providable with 2.5-inch copies. There are also two dedicated 2.5-inch bays directly on the back of the motherboard tray. Thanks to the patented ModuVent design, the lid and dust filter can be fitted with or without a closed cover without tools. Thus, freedom from dust is guaranteed and the precious hardware remains optically absolutely new. Three Fractal Design Dynamic GP-14 140-mm fans provide a very strong airflow from the factory and remain absolutely quiet. Six additional fans can be mounted in the lid, front, bottom and side. With the built-in Nexus + Smart Hub, all nine possible fans can be operated on just one PWM connection. CPU coolers can be installed in the Fractal Design Define R6 White Tempered Glass USB-C with a height of up to 185 mm. Graphics cards with a built-in HDD cover and more than 155 mm height can be up to 300 mm long, otherwise even 440 mm. In addition, the design case provides excessive possibilities for water cooling. Radiators up to size 420 in the lid and 360 in the front are possible here. For this purpose, the floor can be used for 240er / 280er. Note: The PCIe riser cable required for vertical mounting of the graphics card is not included and must be ordered separately. The graphics card should not be higher than two slots when installed vertically. Technical details: - Dimensions: 233 x 465 x 543 mm (W x H x D) - Material: steel, tempered glass, plastic, aluminum - Weight: approx. 12.4 kg - Color white - Form factor: E-ATX (up to 285 mm width) ATX, Micro-ATX, Mini-ITX Total fan possible: - 2x 140 / 3x 120 mm (front side) - 1x 140/120 mm (back) - 2x 140/120 mm (floor) - 2x 140 / 3x 120 mm (cover) Preinstalled: - 2x 140 mm (front, Dynamic X2 GP-14) - 1x 140 mm (rear, Dynamic X2 GP-14) - Filter: front, bottom, lid Radiator mountings (with partial waiver of fan / front rail / HDD cage): - 1x 360/280 mm or smaller (front) - 1x 120 mm (back) - 1x 240/280 mm or smaller (bottom) - 1x 420/360 mm or smaller (lid, limited in standard layout) Drive Bays: - 1x 5.25 inches (external) - 6x 3.5 / 2.5 inches (internal) - 2x 2.5 inches (internal) - Power supply: 1x standard ATX (optional) - Expansion Slots: 7 (+2 vertical) I / O panel: - 2x USB 2.0 - 2x USB 3.0 - 1x USB 3.1 type C - 1x each HD Audio In / Out - Maximum CPU cooler height: 185 mm - Maximum graphics card length: 440 mm (with front fan) - Maximum graphics card height: 155 mm (with more than 300 mm in the standard layout) - Cable management space: 23 mm
Техническо описание
Тегло

12400 г

Други

подреждане на кабелите филтър за прах фен контрол подсилено стъкло

Размери

233x465x543mm

Височина

420 мм

Дълбочина

543 мм

Ширина

155 мм

ATX

Да

Micro ATX

Да

Extended ATX

Да

Mini ITX

Да

Брой USB портове

4

Аудиожак на предния панел 

Не

FireWire 

Не

eSATA 

Не

Слот за вътрешно 3.5" устройство 

6

Слот за 5.25" устройство 

2

Външни дискове

1x 5.25"

Вентилатори

Отпред:2x 140мм Отзад:1x 140мм

Височина на охладителя

до 185мм

Вътрешни дискове

6x 2.5"/3.5" 2x 2.5"

Дължина на видео картата

до 300мм (до 440мм без HDD клетка)

Контрол Панел

1x USB-C 3.1 (20-pin Key-A header) 2x USB-A 3.0 2x USB-A 2.0 слушалки микрофон
Мнения
Няма потребителски мнения до този момент.