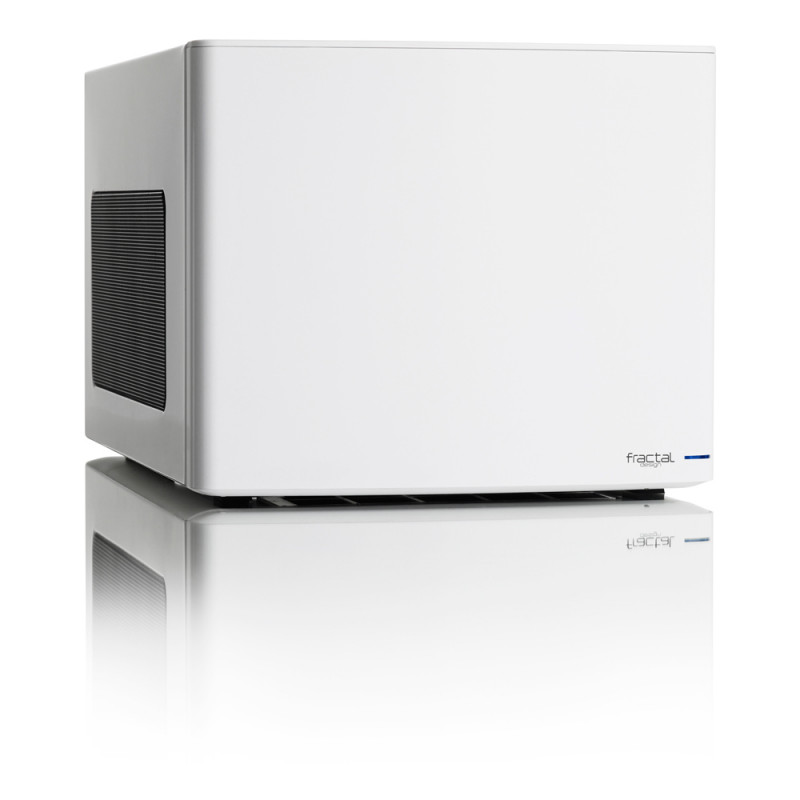  
Fractal Design Node 304 Mini-ITX case - weiss
The node series from the Swedish manufacturer fractal design has the flexibility, both as a HTPC, file servers, media PC as well as to act gaming PC and that combined with a stylish design, including the black-painted interior with the typical fractal design white accents.
The discreetly designed front in aluminum look is slightly curved and rounded to the sides. Small mesh screens on the top and bottom of the curved front are also used for ventilation as the large air intake on the left side, which is provided with a dust filter. Additional air inlets are located on the right side, the floor and the back. The I / O panel is integrated into the right side of the front cover and includes two USB 3.0 ports, one each audio IN / OUT terminal, a power button with LED and HDD status display with LED. The aluminum-look front is interrupted only by a small status indicator and a small Fractal Design logo. Directly behind the front cover two 92-mm fans of the Silent Series R2 with 1,300 U / min are preinstalled. These are complemented in the back by a 140-mm fan of the Silent Series R2 with 1,200 U / min and all three fans can be controlled through the installed in the rear fan control. The Airflow produced thereby provides sufficient cooling for the installed components. And due to the internal layout can be built a lot of hardware, considering the size of the node 304th To function as a file server can cater for up to three 3.5-inch HDDs and three 2.5-inch SSDs are installed directly behind the front panel. Three HDD cages hanging above the power supply, are separately removable and are equipped with decoupled rubber rings for the 3.5-inch HDDs. If one power supply is installed on the rubberized surfaces in the front area, which is not longer than 160 mm long and a drive cage is removed, an up to 310 mm long graphics card can be installed to the node 304 in a small but nice gaming monster transform. In the rear area of ​​the housing is the motherboard, which may have a mini-ITX or Mini-DTX form factor, built. Space for up to 165 mm high CPU cooler has been provided by this placement of the motherboards. At the Two expansion slots are available. Technical details:     Dimensions: 250 x 210 x 374 mm (W x H x D)     Material: Steel (Body), Plastic (front cover)     Weight: approx 4.9 kg     Color white     Form Factor: Mini-ITX     Fan total possible:     2x 92 mm (front)     1x 140 mm (rear)     1x integrated fan controller for up to 3 fan     Of this pre-installed:     1x 140 mm (rear; Silent Series, max 1,000 U / min.)     2x 92 mm (front; Silent Series, max 1,300 U / min.)     Filters: front, right side (PSU)     Drive Bays:     3x 2.5 / 3.5 inches max. (internal)     3x 2.5 inch max. (internal)     Power Supply: 1x standard ATX (optional)     Extension slots: 2     I / O Panel:     2x USB 3.0 (internal connection)     1x per Audio In / Out     1x Power Button (with white LED)     Maximum video card length: 310 mm     Maximum power supply Length: 170 mm (without installed floor fan, a larger PSU to be installed)     Maximum CPU cooler height: 165 mm
Техническо описание
Warranty

24 Months

Цвят

White

Dimensions

mm250 x 210 x 374

Weight

4.90 kg

Other

Mini ITX, DTX motherboard compatibility, ATX PSUs, up to 160mm in length (To fit in combination with a long graphics card, PSUs with modular connectors on the back typically need to be shorter than 160 mm), Graphics cards, up to 310mm in length, when 2 H

Mnfr Part #

Node 304

Cooling

2 - Front mounted 92mm Silent Series R2 hydraulic bearing fans, 1300 RPM speed (compatible with 80mm fans) – included 1 - Rear mounted 140mm Silent Series R2 hydraulic bearing fan, 1000 RPM speed (compatible with 120mm fans) – included Removable air filte

I/O

2 - USB 3.0 (Internal 3.0 to 2.0 adapter included) 1 - 3.5mm audio in (microphone) 1 - 3.5mm audio out (headphone) Power button with LED HDD LED

Expansion Slots

2
Мнения
Няма потребителски мнения до този момент.